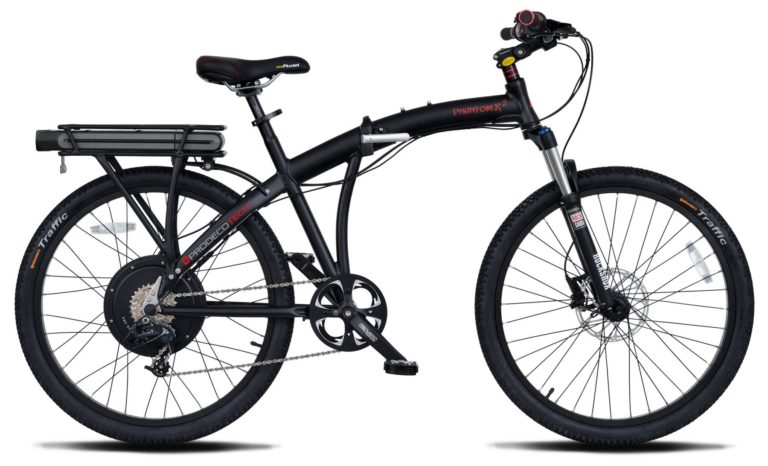 Electric bikes are looking to be the future of cycling with their popularity on the rise across Europe and in the United States. They're allowing riders to travel faster and further which makes it better for the daily commute or longer distance travel.
Electric bikes, or E bikes, come with a small built in motor in the frame. This motor has different power level depending on the make and model of the bike, but in all of them it makes pedalling more effective. Each rotation of the pedals puts more power behind the wheels allowing you to travel at faster and more consistent speeds.
E bikes don't work like scooters or bikes, if you're coasting they won't provide any thrust. They simply act to amplify the effort you're already putting in. The result is much faster commuting and more leisurely cycling, even in rough or hilly terrain.
Companies like Prodeco are well known for their electric bikes, like the Phantom X2. Let's take a closer look at why the Phantom X2 is so popular.
Prodecotech Phantom X2
Prodecotech are based in the U.S and specialise in all things cycling. They built their company on the principles of high quality, low maintenance, affordability and modern style. Through these they've grown to be one of the most recognised names in electric biking.
Prodecotech have a fairly diverse product range of electric bikes which have been specially developed to work efficiently. They offer a range of styles and have products to meet a variety of budgets.
Prodecotech now operate worldwide and have produced some stunning bicycles. This includes the Phantom X2, one of the most popular E bikes. Let's see what makes this bike so special.
Phantom X2 Features 
The Phantom X2 is built in a mountain bike style. It's curving frame makes it stylish and it also packs some serious power. The Phantom X2 also features:
The Phantom X2 is built with a heavy duty aluminium frame which is 26 inches. This makes the whole bike sturdy and durable, able to stand up to some serious wear and tear.
The Phantom X2 is built with 500 watt motor which is considerably more powerful than some other E bikes. It has a top speed of around 20mph and a range of 30 miles.
The Phantom X2 is built with front suspension. This lets it handle rough terrain and minimises the impact of any potholes in the road.
The Phantom X2 is built with high quality components that all come together to make an impressive bicycle. It's built solidly and study with a powerful motor. It's a great choice if you're looking for a reliable bike which is suitable for heavier and taller users.
Full Phantom X2 Review here